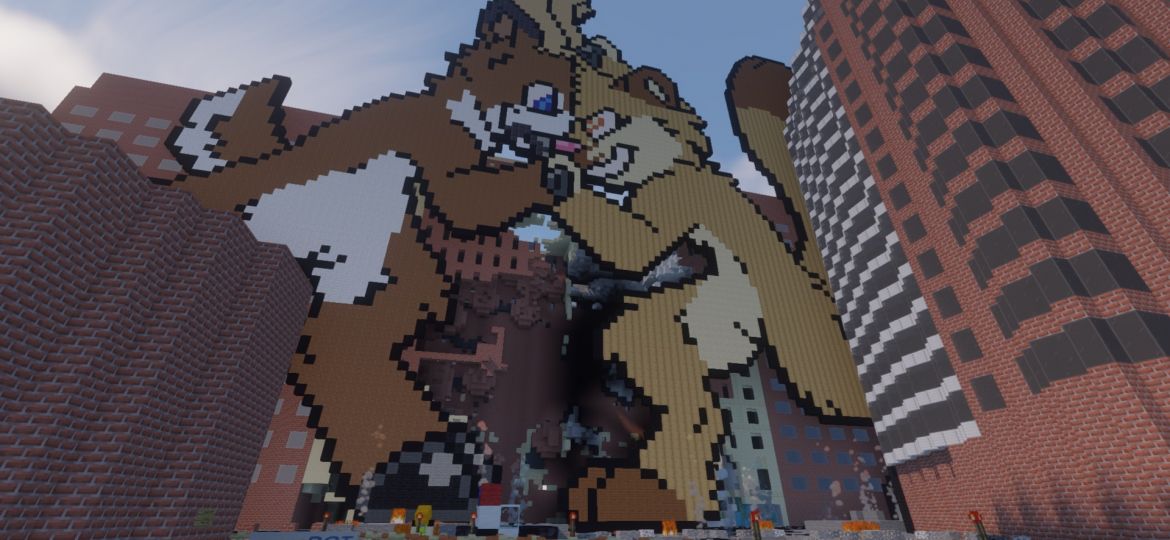 Howdy everyone! I'm Remy, and as Anthro New England's convention chair I'd like to welcome you to our freshly refurbished website for our 2022 event! Our webmaster Atlas deserves all kinds of props for putting this site together – he worked very hard on migrating our site to a new platform during the pandemic, and I'm sure you'll agree with me that it looks fantastic!
It's been a while, so we thought you all might like to read a bit about what we've been up to.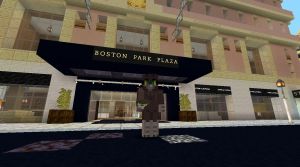 In 2020, we managed to get our event in right before things shut down because of COVID-19, but in 2021 we were obviously less fortunate – vaccination rates were just starting to ramp up in Massachusetts in February, and an in-person event was not feasible. Fortunately, we were blessed with a team of folks who were VERY eager to recreate our hotel in Minecraft, and we were therefore able to structure a fun virtual event of DJs, art streams, and Minecraft shenanigans for 688 unique players who showed up over the course of the weekend! We also raised $750 for our charity, NEADS.
As someone who does not play Minecraft at all, I took a backseat to the actual build of this event, but the interactivity was absolutely incredible. There were little minigames and scavenger hunts built in, as well as macro-sized 2d art of our mascots; there were four Dunkin Donuts to visit, including "Hell Dunks" and one that required a series of jumps that only the most experienced Minecrafters could make their way through; the entire Public Garden was there, including the "Make Way for Ducklings" statue. All in all, the attention to detail was wild, and the teamwork that went into this build was unsurpassed. The in-game chat all weekend was full of people exclaiming at how accurate everything looked, at the ability to ride trains between Arlington and Back Bay, at the sheer expansiveness of the world.
Overall, we'd call ANE 2021 a success, inasmuch as we could not be together in person – and a big, resounding thank you to our build team for creating such a fun experience!
Outside of our virtual event, the Anthro New England board of directors has taken the past year to evaluate where we are as an organization and how we can improve our in-person event for our attendees. A few specific items that we've been working on are our Code of Conduct, which you can see in its current iteration here on the site under 'Policies,' as well as updates to our Registration system and expanded interactivity on social media. We've added an official Telegram group for the convention, moderated by convention staffers, and we'll be launching an official discord later this month. We've also been working to fill some openings on staff – so if you've ever been interested in volunteering/staffing a convention, now is a great time to do so! You can see all of our current openings under About >> Staff Openings.
As you may have noticed, the site is all decked out for our convention's theme next year! We are indeed sticking with our planned theme of "Back to the 90s" from 2021, and that includes our Guests of Honor – we're really excited to be welcoming Nightlinez and the creators of Circles to our in-person event in February 2022! In terms of timing so that you can plan your visit to our convention, we are taking the next few months to build out "Phase 2" of our website, which will include our registration software; we will also be working with the Park Plaza to determine the best time to open our room block for 2022. Before the end of the summer, we'll be opening Dealers Den applications, and we'll proceed forward from there in terms of opening everything else.
If you have any questions for us ahead of our event, our email is open – fire those over to [email protected] and we'll do our best to respond to your inquiries as fast as we can. All  in all, we're very excited to welcome you all back to our next in-person event in February, and we're working hard behind the scenes to make sure your experience is the best it can possibly be!
And last but not least, the credits for the ANE: Online Minecraft Map!
EXTERIOR
: Franky, Smudge, Gale, Flinterstuff, Wes, Atlas(Polaris)
LOBBY
: Smudge, Gale, Vyle, Flinterstuff
STRIP BY STREGA
: Wes
BPP STARBUCKS
: Wes
LEICA STORE
: Wes
MJ O'CONNOR'S
: Wes
AU BON PAIN
: Wes, Vyle
MEZZANINE
: Gale, Smudge
PANEL ROOMS
: Gale
BALLROOM & RECESS
: Smudge
HOTEL ROOMS
: Gale
ROOFTOP & PRESIDENTIAL SUITE
: Atlas(Polaris)
STREETS
: Chirpy, Liko, Atlas(Polaris)
330-332 BOYLSTON ST
: Franky
ARLINGTON ST. CHURCH
: Franky
THOS. MOSER SHOWROOOM
: Wes
382 BOYLSTON ST
: Franky
FOUR SEASONS HOTEL
: Wes
MAGGIANO'S
: Gale
STATLER PARK
: Liko
STUART ST BUILDINGS
: Liko
CASTLE AT PARK PLAZA
: Liko
PIEDMONT ST BUILDINGS
: Liko
ARLINGTON STATION
: Vyle
ARLINGTON ST BUILDINGS
: Wes, Vyle
HERMÉS
: Wes
DUNKIN DONUTS
: Liko
ADDITIONAL BUILDINGS
: Vyle, Wes, Franky
KAIJU CLASH PIXEL ART
: Flinterstuff
MACRO SPILLED DUNKS
: Flinterstuff
RED DRAGON PIXEL ART
: Flinterstuff
KAIJU CLASH SURROUNDINGS
: Atlas(Polaris)
SNORLAX PIXEL ART
: Liko
STREETS
: Atlas(Polaris), Liko
RACCOON FRIEND PIXEL ART
: Flinterstuff
COLUMBUS AVE, DARTMOUTH ST. FACADES
: Atlas(Polaris)
FRIENDLY TOAST RESTAURANT
: Atlas(Polaris)
THE BRAHMIN RESTAURANT
: Atlas(Polaris)
BACK BAY STATION
: Atlas(Polaris), Wes
ORANGE LINE PLATFORM
: Wes, Atlas(Polaris)
COMMUTER RAIL/AMTRAK PLATFORM + TRAINS
: Atlas(Polaris)
MBTA BUS
: Atlas(Polaris)
TASTY BURGER
: Atlas(Polaris), Wes
DUNKIN DONUTS
: Atlas(Polaris), Wes
COLUMBUS AVE FIRE DEPT
: Polaris
CLARENDON ST. GARAGE
: Atlas(Polaris)
LIBERTY MUTUAL TOWER
: Wes
OVERHEAD BIRD PIXEL ART
: Flinterstuff
SLEEPING BEAR PIXEL ART
: Flinterstuff
WALKWAYS
: Chirpy
POND
: Chirpy
BRIDGE
: Chirpy
TREES, PLANTS, ETC
: Chirpy
DUCK BOATS
: Flinterstuff
BOSTON COMMON FRONT
: Chirpy
SURROUNDING STREETS
: Chirpy
KAIJU COPLEY PIXEL ART
: Flint
PARK PLANNING
: Franky
SUBWAY (GREEN/ORANGE LINE)
: Wes
CUSTOM ADVANCEMENTS (ACHIEVEMENTS)
: Wes
ESCAPE ROOM MINI-GAME
: Wes
PIXEL ARTWORK
: Flinterstuff, Liko
EASTER EGGS
: Flinterstuff, Vyle, Atlas(Polaris), Wes
PLANNING/SERVER MANAGEMENT
: Wes, Smudge, Franky, Duen