WHAT HAPPENS WHEN THE SUN GOES DOWN...
WHAT
IS
THE NIGHT MARKET?
The Night Market is ANE's first 21+ event space! Sip on some adult beverages as you shop at our vendor area for exclusive 18+ swag (and a few interactive games!), dance to some vibey DJ sets, or maybe take a photo or two at our 18+ Photo Shoot – and you can do so as a pup, pony, or whatever your heart desires!
WHAT ISN'T THE NIGHT MARKET?
This is NOT a play party! Gear and fursuits are encouraged, but we must comply with Massachusetts laws and local regulations. This means that at all times everyone needs to keep "genitalia, the genital area, pubic hair, buttocks, and breasts" covered. This also includes faux parts on fursuits! Please leave your leashes in your rooms.
When traveling to and from the Market within other hotel spaces, your outfit must comply with the general Code of Conduct. If in doubt, ask when you get there and we're happy to clarify. Staff always have the final say over what's appropriate. If staff inform you that you need to change your outfit, please head back to your room and change. We want to make sure that this is a safe and fun event for everyone!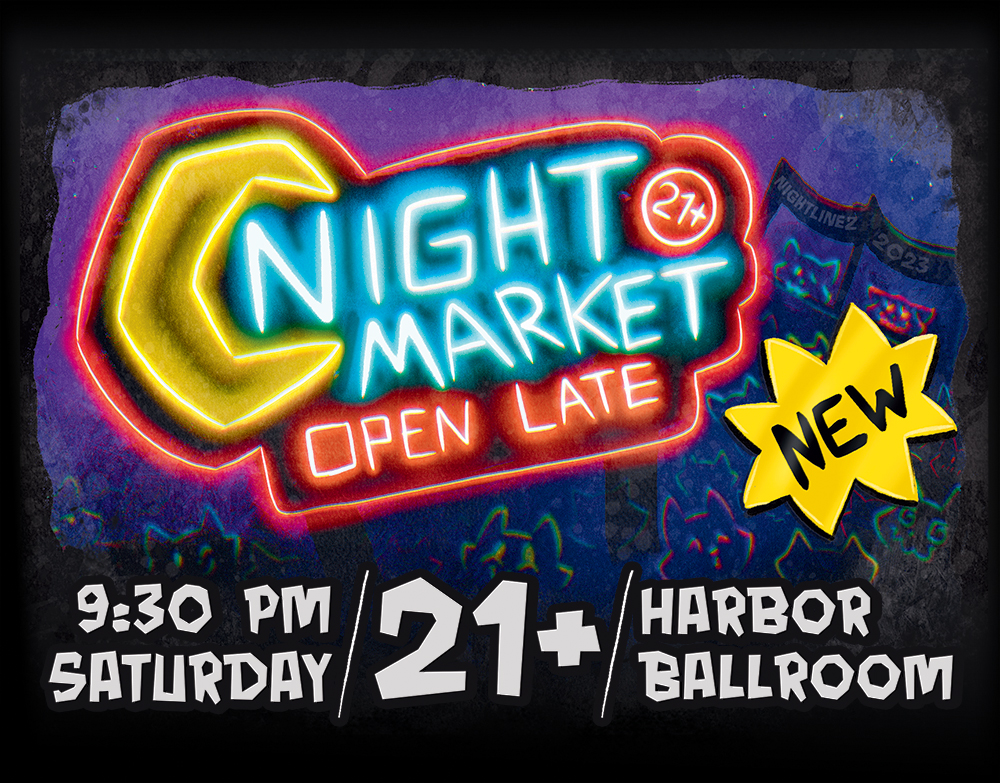 WHO CAN ATTEND?
The Night Market is open to Anthro New England attendees ages 21+. IDs will be checked both at the door and at the bar.
WHAT DO I NEED?
Please have your convention badge and ID ready to be checked upon arrival at the event. You will be given a wristband for re-entry.
WHAT ABOUT THIS AUCTION?
We will be hosting our Adult Charity Auction on the ballroom stage at 11:00PM! Make sure to take a look at our offerings in the Charity Room before the event on Friday or Saturday; final bids will be taken by Kujo, our auctioneer!
WHO'S GOING TO BE VENDING?
Primal Hardwere
Vixen & Hart
Ark–Bark Arts
LimeyTheCheetah
Shush Plush
Possibly Seyton
Deer Hudson Crafts
NightlineZart
BeastSoul
Tail Ends Studios
Jaystor Art
Ikky Panda Sculpture Commissions
Tough Hide
FristArt
The-Miniscule-Task
We've closed applications for this year's Night Market, but please reach out to [email protected] for interest regarding future years!
WHO'S GOING TO BE DJ-ING?
Five12 TR (synthwave)
DJ Trashtail (NuDisco, Filter House, French Touch)
DJ Buckdog (Acid, Techno, Electro)
Hound Selekta (UK Bass/Techno/Breaks)
QUESTIONS?
Please reach out to our team at [email protected]!