TRAVEL INFORMATION.
Getting to Anthro New England isn't as difficult as you might think! Being located within South Boston in the Waterfront & Seaport district, makes it very easy to get to and from the convention. Please read this guide carefully for some suggestions for traveling to and from Anthro New England and the city of Boston.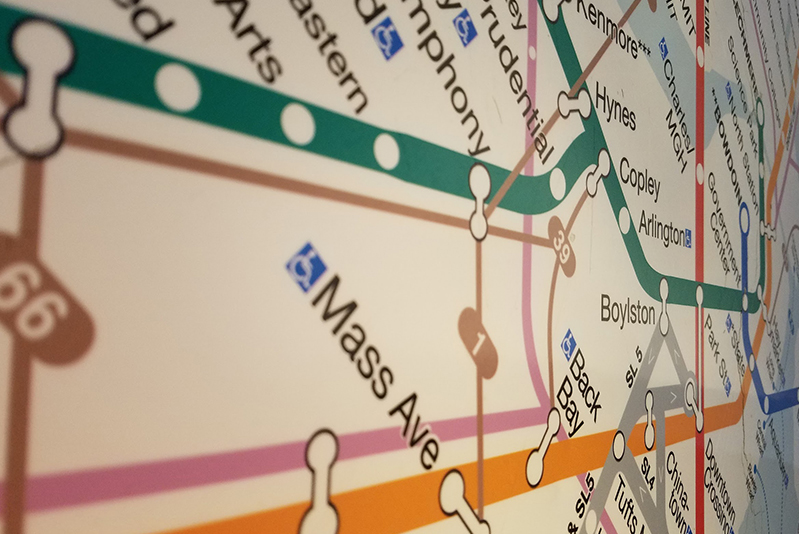 BY VEHICLE – TRAVELING TO BOSTON
GREYHOUND BUS.
If you don't live near a train station, airport, or you don't want to use either of those methods to get to Boston – no problem! Greyhound buses run largely throughout the United States and Canada. You can book a trip from a bus stop near you, and from there make connections if necessary to drop you off in Boston! This is generally a very cheap option – if you're willing to spend the time on a bus, but don't worry! Every bus comes with power outlets, legroom, and on-board WiFi.
For more info about the Greyhound Bus service, click here. 
DRIVING BY CAR.
So, you've decided to make the journey on your own terms? Good on ya! Of course, we recommend you travel in a safe, maintained vehicle, and drive in accordance with local laws and all of that. We recommend the use of a GPS device, or a navigation app on your phone – such as Google Maps or Waze. Stay safe out there! When you finally arrive, refer to the below Parking section for some suggestions and tips for parking in the big city.
PARKING GUIDE.
Please read this guide carefully for some tips for parking in and around Boston. Anthro New England is located in the beautiful Seaport district in South Boston! There are several options for parking and commuting to the convention. ANE's hotel, the Westin Boston Seaport hotel, does operate its own parking garage. In addition, we list below some parking options that are from third parties, operated outside of the convention's control. Please be aware that parking can be expensive – be sure to review the options below to avoid sticker shock!
WESTIN BOSTON SEAPORT PARKING GARAGE.
The Westin Boston Seaport hotel offers in garage parking for $44 per night. The parking garage is located underground, with an entrance and exit right by the main lobby off East Side Drive.
WESTIN BOSTON SEAPORT VALET.
The Westin Boston Seaport hotel offers Valet Parking for $54 per night. Valet Parking is located at the main lobby entrance, please see the valet parking booth.
STREET PARKING APPS.
We recommend booking convenient and affordable parking in advance through various parking apps, including SpotHero, to find the best rates possible prior to arriving in Boston.
You'll find the best pricing in advance online – and save yourself on hassle of finding and parking the day of the convention.
PARKING GARAGES IN BOSTON.
Channel Center Garage
 116 West 1st Street, Boston. 1 Mile from hotel.
Daily Max Rate*: $30 | Contact #: (617) 756-5209
Visit Website
South Boston Waterfront Transportation Center
503 Congress St, Boston. 0.4 Miles from hotel.
Daily Max Rate*: $38 | Contact #: (857) 350-4569
Visit Website
Calling ahead to review availability & specifics is strongly recommended!
Below is a chart listing our recommended MBTA T station stops that offer overnight parking, with the line color, address, and maximum daily rate for parking.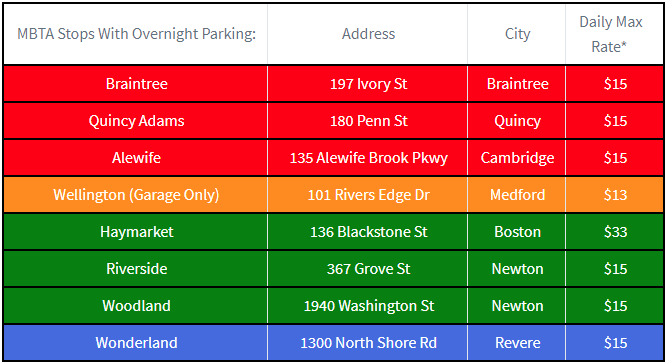 MBTA Stops With Overnight Parking:
Address
City
Daily Max
Rate*

Braintree

197 Ivory St

Braintree

$15

Quincy Adams

180 Penn St

Quincy

$15

Alewife

135 Alewife Brook Pkwy

Cambridge

$15

Wellington (Garage Only)

101 Rivers Edge Dr

Medford

$13

Haymarket

136 Blackstone St

Boston

$33

Riverside

367 Grove St

Newton

$15

Woodland

1940 Washington St

Newton

$15

Wonderland

1300 North Shore Rd

Revere

$15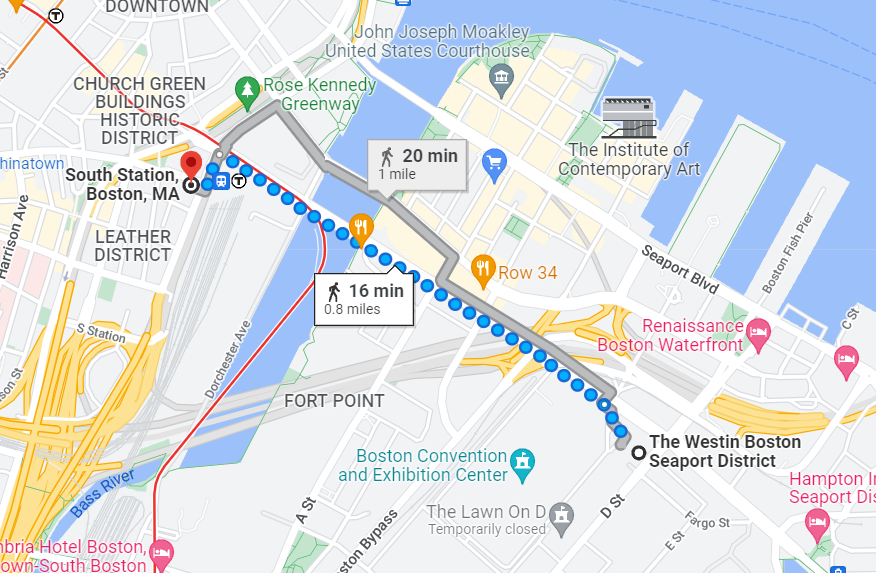 The Westin Boston Seaport hotel is located approximately 15 minutes away from the nearest MBTA Subway station, Boston South Station. This is served by the Red Line.
RED LINE TRANSFER STOPS.
FROM THE GREEN LINE: Park Street Station
FROM THE ORANGE LINE: Downtown Crossing Station
FROM THE BLUE LINE:  Street Station