WELCOME TO BOSTON.
WELCOME TO THE BOSTON PARK PLAZA.
Anthro New England will be returning to the Boston Park Plaza for 2022. The Boston Park Plaza is so much more than a hotel – they are a Boston icon that is as much a part of the city's heritage as the Boston Tea Party and the annual Head of Charles Regatta. Located just feet from the Boston Commons, Public Gardens, Theater District, and Boylston St., ANE will again be held in the heart of downtown Boston.
Following a landmark renovation, Boston Park Plaza offers guests all the charisma and deeply individual charm of a historic hotel with the expected comforts of a new property. Originally built in the 1920's, the Boston Park Plaza took painstaking care to combine modern design with preserved historic woodwork and touches. The Boston Park Plaza boasts over 1,000 guest rooms, luxurious convention space, and top-tier restaurants.
The Boston Park Plaza is located at 50 Park Plaza, Boston, MA 02116.
For more information regarding the Boston Park Plaza and its amenities, please visit their website.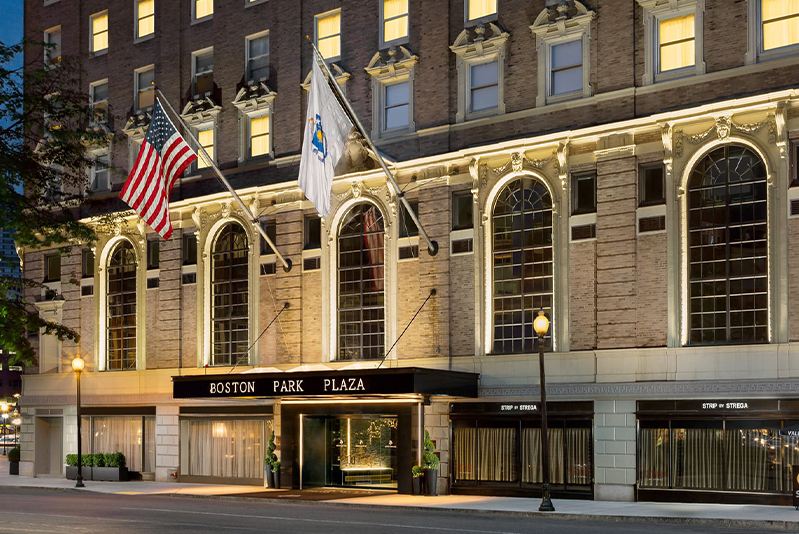 ROOMS & RATES.
The Boston Park Plaza offers a variety of distinctly unique rooms, each slightly different than the last. Expect King and Double rooms to comfortably fit a small amount of guests and their luggage. Square footage for King rooms ranges from 180 – 280 sq. ft., and Double rooms ranges from 230 – 280 sq. ft.
Attendees looking for additional square footage to accommodate visitors to their room should consider the Deluxe King or Deluxe Double rooms. All Deluxe rooms sport a marble working desk and full size closet, with square footage ranging from 230 – 280 sq. ft. (Two Queens) and 280 – 380 sq. ft. (King).
Anthro New England is including hotel suites for a discounted convention rate. Suites are limited in number, and should be booked promptly. Studio Suites guarantee views of the city, leather sofas with pull-out beds, and 350 – 550 sq. ft. of living space. One Bedroom Suites provide private sleeping quarters for both the bed and leather sofa with pullout bed, along with a full bathroom and 530 sq. ft. of living space.
We are also including the $99/night 'Run Of House' rooms in our block! At around 150 square feet, these rooms may not be very large, but the Boston Park Plaza's Run Of House Room category is perfect for the budget conscious con-goer who is looking to make the most of their money. These rooms are a great fit for solo travelers, or couples who do not need a lot of space. (If you're planning to bring a lot of fursuits, this may not be the best option for you.)
Rooms are available at the following convention rates from Thursday (2/17/2022) check-in until Monday (2/21/2022) check-out*:
Cozy Queen (A.K.A Run Of House) (1-2 guests)
$99.00 per night
Standard Queen/King (1-2 guests)
$159.00 per night
Standard Double/Double (1-4 guests)
$159.00 per night
Deluxe King (1-2 guests)
$179.00 per night
Deluxe Double/Double (1-4 guests)
$179.00 per night
Studio Suite (1-4 guests)
$199.00 per night
One-Bedroom Suite (1-6 guests)
$219.00 per night
*Rates do not include applicable taxes and fees. Room nights before Thursday, 2/17/2022 and after check out Monday, 2/21/2022, can be booked at the prevailing hotel room rate.
It's time to book your room for your stay at the Boston Park Plaza! For guests interested in staying up late and partying like it really is the 90's, choose the Book 'Night Owl' Room button below to reserve in the late night block! For those interested in getting some shuteye earlier in the evening, choose the Book 'Quiet Floor' Room button to reserve in the quiet block!
HOTEL MAP.
The Boston Park Plaza has plenty of event spaces, and open public areas! The lobby features a mezzanine with an atrium that wraps around the Off The Common restaurant in the center, just beyond the entrance. The main convention floor is 2F, featuring the Dealer's Den, Artists' Alley, Main Ballroom, the Zoo, Registration, Security and Con Ops. Anthro New England also includes all-gender bathrooms on multiple floors, and a headless lounge on both 2F and 4F, so no matter where you or a companion might be living it up as an animal, you'll be able to sneak off and cool down.
ANE also has access to the lower Terrace, located down a small flight of stairs from the ground floor. This is where con events such as the Kaiju-Clash, Sponsor Dinners/Breakfasts are held, and the dead-dog dance. And finally, floor 4F is the main panels floor, featuring multiple panel rooms, a quiet room – if you need a place to just decompress, and the Fuzzy Logic escape room experience is held on this floor as well!
BACK BAY & THE GARDENS.
The Boston Park Plaza is located within the Back Bay neighborhood – featuring historic Boston landmarks such as the Public Gardens, the Boston Public Library, and the Boston Commons! There's plenty to see and do in this area outside of the convention, we recommend browsing nearby attractions on Google if you're interested in visiting the surrounding area!
For suggestions on attractions in the area, please see the Boston Park Plaza's Visitor's Guide.
From all of us, welcome to Boston. Welcome to Anthro New England.