STAFF OPENINGS.
Thank you for taking an interest in being a part of our wonderful Anthro New England con staff! Our team is committed to giving our attendees the best experience possible. As such, we hold our staff to a very high standard.
ANE staff roles are volunteer positions, but there are rewards for being staff – read on to see what staffing a con entails as well as what benefits come along with the positions.
Please review the below information in full before submitting an application – it's important you understand the full extent of what your role entails!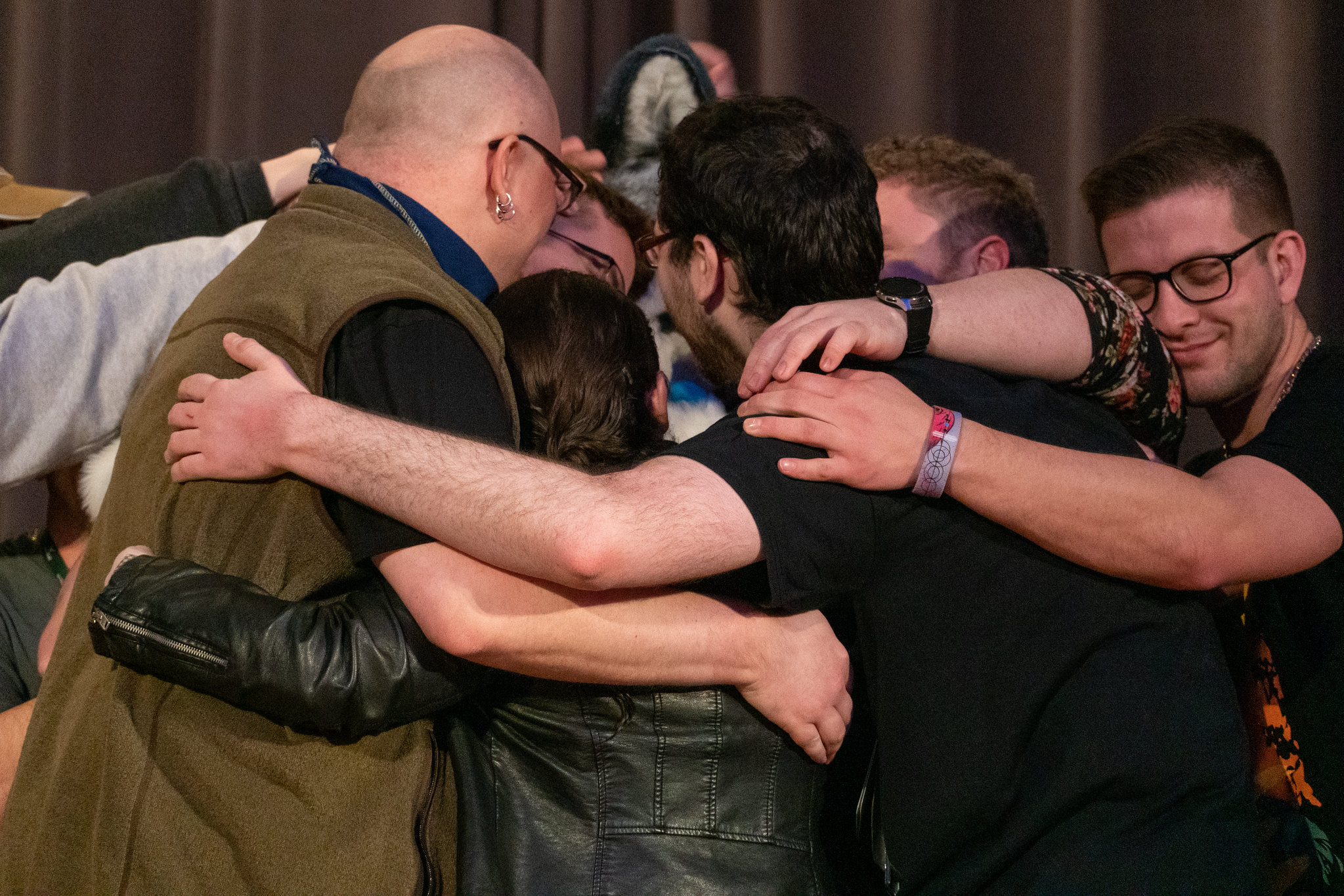 STAFF RESPONSIBILITIES.
Anthro New England staffers are held to a standard of behavior above our attendees. You must have a good attitude, be willing to work as part of a team, and be able to communicate!
Anthro New England staffers are expected to work for a significant part of each day at the convention. Generally a minimum of eight hours per day is typical. Exceptions include those roles that put in similar hours before the convention.
Prospective staff members should have a general idea of what position they feel they would fit in, even if that position is "general support person."
Prospective staff members should be prepared to attend online meetings ahead of the convention; we do not require that you attend every meeting, and meetings are not very frequent, but these are helpful to keep all staffers informed.
Being a staffer is a commitment and is not for everyone! Volunteer positions are always available if you still want to pitch in but would prefer a lower-commitment role. If you are interested, however, please peruse our open positions below!
STAFF PERKS.
Joining con staff definitely comes with benefits. Core staff receive hotel room space for the duration of the event, plus free regular registration and all staffers will receive an exclusive ANE staff t-shirt and con store goody bag – along with other perks that are TBD!
HOW DO I JOIN?
Simply apply by clicking the button below and then fill out the form!
VOLUNTEER STAFF
We have many helpful volunteer animals at this convention, and they need to be kept track of! Volunteer staffer responsibilities include helping us intake new volunteers at Con Ops, assigning them to departments that are in need of volunteers, helping us track hours, and generally helping assist our Volunteer Lead with tasks that may arise.
This is a seasonal staff position.
A/V STAFF
Our A/V team raises the bar each year with setups now in two ballrooms! In order to keep growing and improving things, we need a few more committed staff members to help us put on the quality dances, concerts, and stage shows we're proud to be known for. Prior a/v experience, particularly at furry conventions (or adjacent fandom cons) preferred.
This is a core staff position.
SOCIAL MEDIA STAFF
Do you have a knack for Twitter? Can you follow brand guidelines to a T? Are you a Facebook/Instagram whiz? We are looking for someone with social media expertise to join our Media Team! In your application, please provide details about past work/experience and what platforms you are most familiar with.
This is a seasonal staff position.
PANELS STAFF
Our Panels track is getting more expansive by the year, and we need more people to help our Panels lead manage everything! As part of the Panels Team, you will serve as a liaison for our attendee panel runners; tasks typically include helping them with projectors, line management, room rearrangement, coordinating volunteer badge checkers for 18+ panels – and giving a lot of directions to lost attendees looking for panel rooms. If you're outgoing and good at managing wayward groups of people, this is the role for you!
This is a seasonal staff position.
REGISTRATION STAFF
We are looking for some outgoing furs to help in our Registration department! Whether you're doing pre-reg intake or registering folks onsite, you'll be helping us keep lines short and attendees happy. Must be comfortable operating a computer, performing financial transactions, and working with sensitive information.
This is a seasonal staff position.
CON STORE HEAD
ANE is looking for a new Con Store head! This individual should be outgoing and enjoy engaging with a large number of con attendees. A strong ability to plan and organize multiple tasks is a must from planning and ordering merchandise, researching new products and suppliers, budgeting, managing staff and schedules, organizing department meetings, and more! The new lead will also be responsible for managing inventory and keeping it up to date in the Con Store's Square system. This is a great opportunity for someone that wants to be involved with ANE in a capacity that impacts almost everyone at the convention!
This is a core staff position.
con safety staff
Our freshly re-named Con Safety Staff needs a few new furs to help keep attendees safe and things running smoothly! The Con Safety Office is generally the first point of contact for attendees looking for help with various items, so a personable customer-service attitude is a must. Prior experience in Safety-adjacent roles preferred, but not required. Candidates with EMT, nursing, or other medical experience may be considered for a Medical Lead role within this team – please provide any relevant experience in your application form!
This is a core staff position.
PRESS LIASON – ASSISTANT
We're looking for someone to fill an assistant position to help our Press Liaison! This position's responsibilities primarily include keeping track of any/all media requests and members of the press who may show up at our convention, including guiding said press members to various events. In the past we've hosted journalists from the Boston Herald, The Huntington News, Vice, and other outlets, and we pride ourselves on maintaining a professional relationship with anyone who is interested in covering our convention – if you're interested in PR/media, this may be the position for you!
This is a seasonal staff position.
CON STORE STAFF
Our Con Store is looking for furries to help us sell convention merchandise! This team also helps our Con Store lead decide on what merchandise we provide at the convention. This position has daytime hours during the convention that align with our Dealers Den. Experience in retail preferred, but not required – must be comfortable handling money and providing excellent customer service.
This is a seasonal staff position.
LOGISTICS STAFF
Do you enjoy picking things up and putting them down – and then promptly going off to enjoy the rest of your convention? Our Logistics team, aka our squad of moving experts, is looking for new members to help us migrate the convention from our storage unit to the hotel and back! Must be able to commit to Thursday morning and Sunday night/Monday morning pack-in and pack-out before and after the convention. This position does not require any commitment between opening and closing ceremonies.
This is a seasonal staff position.