STAFF OPENINGS.
Thank you for taking an interest in being a part of our wonderful Anthro New England con staff! Our team is committed to giving our attendees the best experience possible. As such, we hold our staff to a very high standard.
ANE staff roles are volunteer positions, but there are rewards for being staff – read on to see what staffing a con entails as well as what benefits come along with the positions.
Please review the below information in full before submitting an application – it's important you understand the full extent of what your role entails!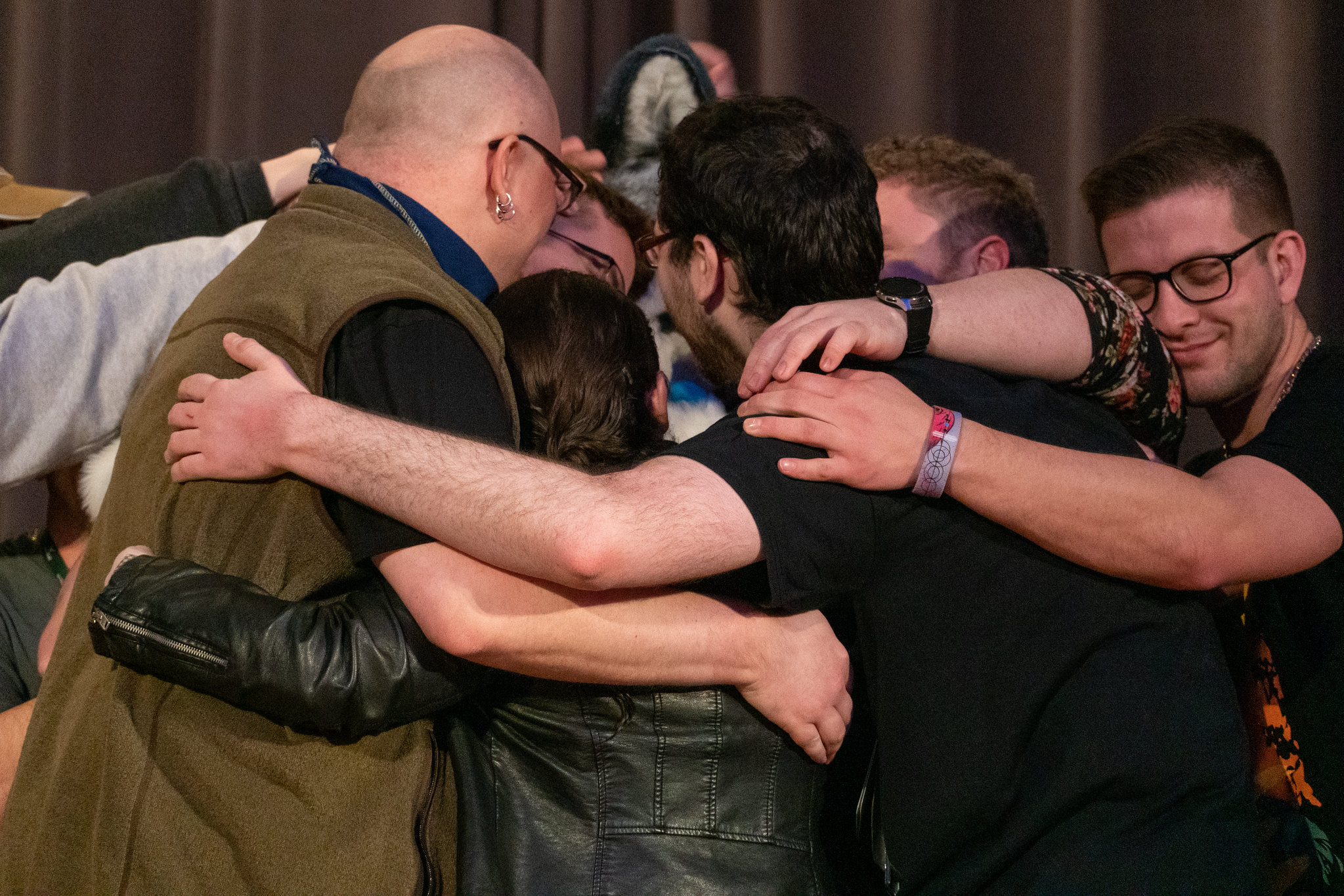 STAFF RESPONSIBILITIES.
Anthro New England staffers are held to a standard of behavior above our attendees. You must have a good attitude, be willing to work as part of a team, and be able to communicate!
Anthro New England staffers are expected to work for a significant part of each day at the convention. Generally a minimum of eight hours per day is typical. Exceptions include those roles that put in similar hours before the convention.
Prospective staff members should have a general idea of what position they feel they would fit in, even if that position is "general support person."
Prospective staff members should be prepared to attend online meetings ahead of the convention; we do not require that you attend every meeting, and meetings are not very frequent, but these are helpful to keep all staffers informed.
Being a staffer is a commitment and is not for everyone! Volunteer positions are always available if you still want to pitch in but would prefer a lower-commitment role. If you are interested, however, please peruse our open positions below!
STAFF PERKS.
Joining con staff definitely comes with benefits. Core staff receive hotel room space for the duration of the event, and all staffers will receive an exclusive ANE staff t-shirt and con store goody bag – along with other perks that are TBD!
HOW DO I JOIN?
Simply apply by clicking the button below and then fill out the form!
Head of Con Safety
ANE has a great group of staffers on our Con Safety & Relations team whose job it is to patrol the common areas, assist with line management, and deal with issues involving attendee safety & security. And our animals need a leader!
This position is integral to the function of our convention.
Our Head of Con Safety position involves overseeing the Con Safety team, including assigning staffers to shifts alongside our Assistant Heads of Con Safety, being a point of escalation for staff members, answering emails directed to our security team, and making final determinations on issues that may involve violations of our Code of Conduct. Please note that this position is very time-heavy at the convention, and will require a significant commitment.
Applicants are strongly recommended to have prior experience in a leadership position, be able to delegate/assign tasks on the fly, and have strong conflict resolution skills. Experience in event management and/or security work is a plus.
This is a core staff position.
Assistant Press Liaison
We're looking for someone to fill an assistant position to help our Press Liaison! This position's responsibilities primarily include keeping track of any/all media requests and members of the press who may show up at our convention, including guiding said press members to various events. In the past we've hosted journalists from the Boston Herald, The Huntington News, Vice, and other outlets, and we pride ourselves on maintaining a professional relationship with anyone who is interested in covering our convention – if you're interested in PR/media, this may be the position for you!
This is a core staff position.
Photographer
Furries have so many sides, and we want you to come help us capture the best of them! We are looking for a photographer, ideally one with portrait experience, to help in our Photo Room!
This is a seasonal staff position.
Accessibility Lead
Our Accessibility Lead's role is to continuously audit our organization to ensure that we are supporting Disabled members of our community. This role will include tasks such as creating a line management plan for folks who can't stand in line for long periods of time, creating more visible written guidance for folks in wheelchairs who need to navigate our hotel, and other tasks that serve to make our convention equitable for people with mobility and other health challenges.
This is a core staff position.
Talent Show Host
Do you thrive on stage? Do you love being a hype machine for up-and-coming talent? We're looking for someone to take on the reins and responsibilities of hosting our Sunday talent "competition," ANE's Got Talent! This is a seasonal staff position which entails a commitment of several hours on Friday for rehearsal, and several hours on Sunday for the performance. Ideal candidates will be just as comfortable wrangling excited performers during rehearsal as they are putting together a lineup for Sunday!
This is a seasonal staff position.
Social Media Staff
Do you have a knack for Twitter? Can you follow brand guidelines to a T? Are you a Facebook/Instagram whiz? We are looking for someone with social media expertise to join our Media Team! In your application, please provide details about past work/experience and what platforms you are most familiar with.
This is a seasonal staff position.