THE ATTENDEE'S GUIDE TO ANE.
Every furry convention has to have a conbook, it's small, full of useful info, the schedule, map, and more! Every year we put together a themed conbook, with artwork from our Guests of Honor, and from art submissions by the wonderful community!
ADS… OF COURSE THERE'S ADS. 
Yeah – there are advertisement slots we offer for our attendees and vendors alike! These both help support Anthro New England and it's charities as much as it allows you to get attendees viewing what you're passionate about! 
ADVERTISING OPTIONS.
For 2023, ANE is offering two different ways to advertise your business: slots in our printed convention booklet, and as part of a looping video on the large LED screen in our new main hotel's lobby!
Please note that the prices we charge are solely intended to help recoup some of the costs of printing the booklets and renting the screen. ANE is a registered 501(c)(3) charitable organization and does not profit from these advertisements.
Want your ad included in our printed convention booklet?
The ANE2023 conbook will be a full-color, 5½" wide × 8½" high booklet available to all registered attendees (while supplies last). Files need to be submitted as PNG (preferred), PDF, JPG, or AI/EPS formats only. Image quality should be 300dpi (ideally CMYK) and include ⅛" bleeds on all sides. All content must be PG-friendly; images of a sexual or violent nature or containing strong profanity will not be accepted.
Limited slots are available in 2 sizes:
$90 full-page slot (5¾" wide × 8¾" high including bleeds, or 1725 × 2625 px @ 300dpi)
$50 half-page slot  (5¾" wide × 4½" high including bleeds, or 1725 × 1350 px @ 300dpi)
Your advertisement is NOT required for submission of this form, however please note that the finalized file must be sent by December 15, 2022 to avoid missing the printing deadline!
This is a new one: the Westin Boston Seaport Hotel's main lobby LED Screen! This is a massive 33′ wide × 19′ high screen situated directly facing the hotel's main entrance, guaranteeing high foot traffic and visibility. The screen will have continually looping video running for the full duration of the weekend, with information about the convention, our charities and guests, scheduling and events, and so on.  Each morning at 6am the content of the video will change to reflect that day's scheduling, events, and so on.  Advertisements will also change at this time to allow for flexibility in cost and available slots.
While we're still finalizing the exact content of the video, our current drafts indicate that one full loop of all content will take between 2.5-4 minutes depending on the time and day, 30 seconds of which will be dedicated to showing all of the received ads in a gridded layout.  Assuming the loop always takes the full 4 minute estimate, this means ads will show no less than 15 times for a total of 7.5 minutes every hour.  To simplify the submission process for the first year, ads should be sized the same as a full-page conbook slot: 1725 pixels wide × 2625 pixels high. The screen is technically 4K resolution, but such a large scale means it translates to roughly 10dpi (though it still looks incredible!). The final on-screen size of the ads may vary slightly depending on the finalized layout but should be approximately 60″ wide × 77″ high.
There will be 3 timeslots each with a limited number of spaces available to purchase at the following rates:
$75 for "Friday" — a 24-hour timeslot running from 6am Friday (1/20) thru 6am Saturday (1/21)
$75 for "Saturday" — a 24-hour timeslot running from 6am Saturday (1/21) thru 6am Sunday (1/22)
$45 for "Sunday" — a 12-hour timeslot running from 6am Sunday (1/22) thru 6pm Sunday (1/22)
Note that no advertisements will run prior to Friday morning, and the Sunday timeslot ends early to coincide with Closing Ceremonies.  Also for the sake of full transparency, we want to be clear that this is a completely new venture for our team and that means things might not be quite as polished to a level of quality we usually hold ourselves to.  For this reason, we've opted to offer these slots at relatively low rates for this first year.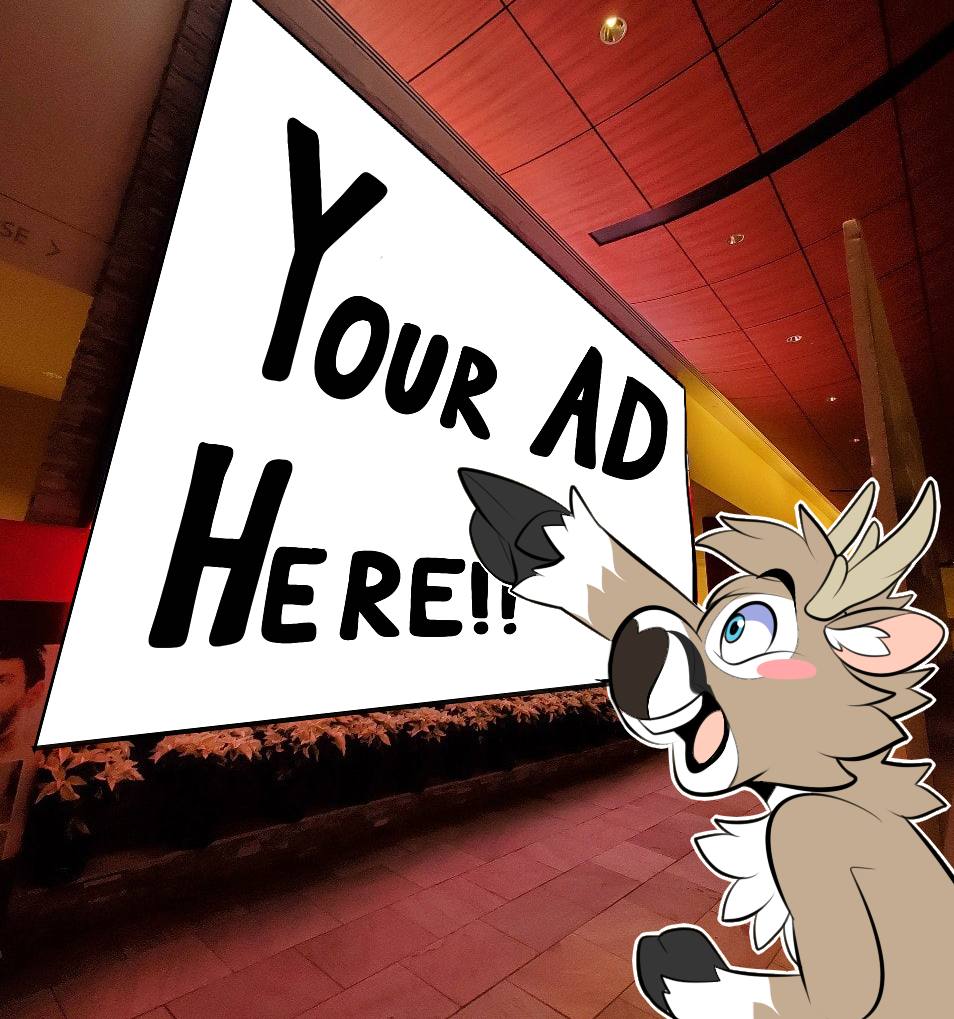 INTERESTED?
Awesome! Use the form linked below to request adspace!
ADSPACE REQUESTS ARE CLOSED FOR ANE 2023
ANY QUESTIONS?
If you have any additional questions not answered on this page or in the above form, please feel free to reach out to [email protected].